The ability to write a compelling resume is a handy talent to have if you want to land your dream job. Unfortunately, not everyone has that ability. In fact, many find the task extremely frustrating. The good news is that you don't have to stress yourself trying to write the perfect resume. There are plenty of professional and best resume writing services that can tackle the job for you.
Perhaps you're wondering why you should shell out your hard-earned money when there are plenty of online resources that can help you write a reasonable resume yourself. The main reason you may opt to use an expert is because they have the knowledge, skills, and experience to boost your chances of being shortlisted for a job interview. With that in mind, here are the ways a professional resume writer can help you.
Identify the employer's key selection criteria
Identify your key skills and competencies that make you a quality candidate for the job.
Enhance your resume to make it stand out and grab an employer's attention.
Develop your resume to meet the employer's formatting standards.
You may not be aware of the hard and soft skills that make you a good fit for the role. Or maybe you don't know the keywords that applicant tracking systems search for. Or maybe you don't know how to highlight your experiences in an eye catching and engaging manner. For these reasons and more, it can be in your best interest to hire a professional resume writing service instead of stumbling through the process on your own.
So which resume service should you choose?
Then again, the internet hosts numerous professional resume services online, more than one can count, and combing through all of them to find the best one for your needs can be time consuming. To save you from the hassle, I evaluated the best resume writing services based on the quality of their work, the guarantees, the packages, pricing, and customer service, along with other key metrics. In this resume writing services review, I reveal my seven picks for the top resume writing services you can use.
Best Resume Service for Inexperienced Writers – TopResume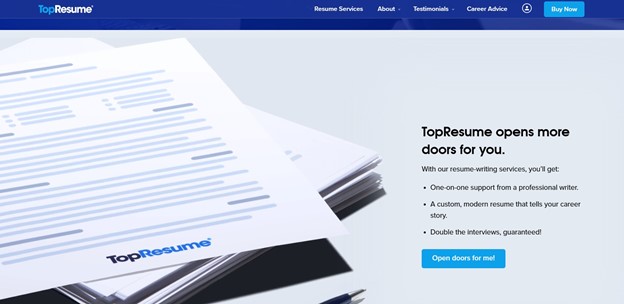 TopResume matches you with an expert resume writer who will work with you one-on-one to develop your resume and customize it for your industry and profession. This resume writer service further elevates its services with an in-house career specialist who can provide you with tips not only for your resume, but your career path as well.
TopResume delivers three high quality resume packages—Starter, Premium, and Ultimate—all of which are accompanied by a variety of other resume building services. Of these three price tiers, the top two options—Premium and Ultimate—come highly recommended, as these come with better writers who belong to the top 10% of their resume writing pool.
Another benefit of the Premium and Ultimate packages is the inclusion of a cover letter. The latter also comes with a LinkedIN makeover where a TopResume writer helps you rewrite your profile to make it more memorable and engaging.
The TopResume process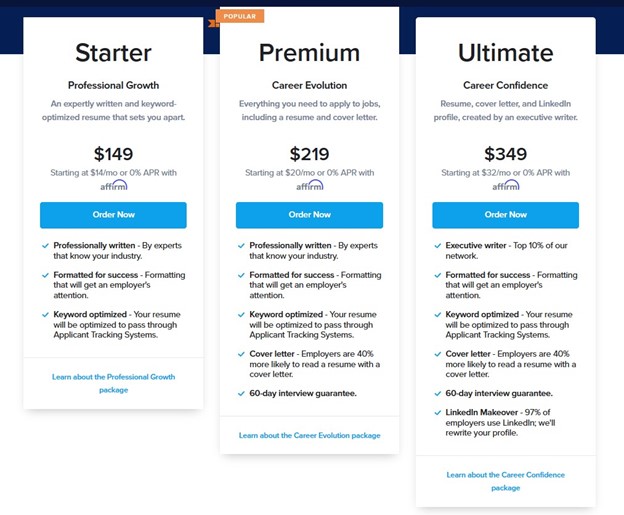 TopResume's resume writing services are pretty straightforward. You begin by uploading your resume for review, which is completely free. If you decide to move forward and place your order, you'll be required to fill out a questionnaire. Once you submit the questionnaire, a writer will then be assigned to you. Next, you'll be sent an email detailing the next steps you must take, along with the timeline for the project. Typically, you'll receive the first draft after five to seven working days.
Key characteristics of a TopResume resume
TopResume has reportedly helped "over 1 million professionals land more interviews and get hired faster" with their tried and tested techniques. Looking at one of their resumes, you'll immediately notice a few key characteristics:
The profile summary is keyword-based to make the section more eye-catching and easier to read.
The format is more organic and makes smart use of white space.
Sentences are straightforward and constructed for snappiness
For inexperienced resume writers, TopResume delivers resumes that have everything you need to make a good impression while leaving you with the least amount of work possible.
Most Comprehensive Resume Services – Resumeble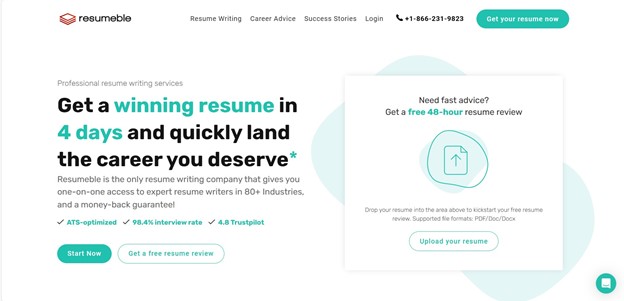 Resumeble scores big in terms of the completeness of its resume services, offering three competitively priced packages (Career Pro, Professional, and Premium). Resumeble even has its own expert resume review service that can scan and analyze your document for free. And that's not even the best part—they also offer a 60-day interview guarantee and 180-day money back guarantee. You can even 'Gift a Resume' from Resumeble to friends and family to help them get ahead in their career. What more can you ask for?
Those on a tight budget will be glad to know that every price tier that Resumeble offers comes packaged with a professionally written resume, three free revisions, a job interview manual, and best of all, a cover letter. Most services only include a cover letter on higher price tiers, or offer it as an add-on service. Customization is another area where Resumeble excels at, as users get to pick and choose any add-on services as they see fit.
The Resumeble process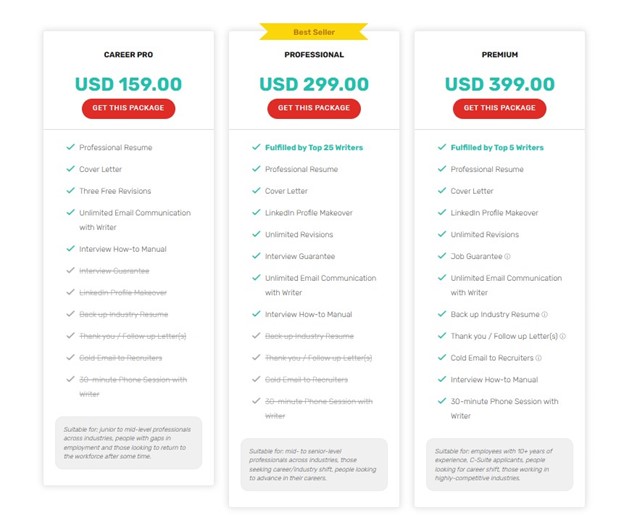 Resumeble lets you upload your resume for review where, within 48 hours, you'll know your resume's strong and weak points, along with a detailed explanation of each. If you decide to use their service, you will have to register and choose one of the available packages. You may then proceed to the one-on-one writer consultation that helps ensure your writer understands what you want out of your resume. Once the writer gets all the necessary details, all you have to do is wait for your draft, which will be sent to you within four quick working days!
Key characteristics of a Resumeble resume
Resumeble's writers have mastered the art of the "humblebrag," where your skills and experience are represented in a genuine and relatable way. Their resumes are also known for having the following qualities.
Keyword-optimized to pass the most stringent applicant tracking system (ATS) screenings.
Sections are strategically organized according to the priorities of the position.
Clearly conveys the skills and experiences that prospective employers want to see.
With writers who take the time to understand their clients, and resumes developed to beat annoying ATS systems, Resumeble offers great value for money. Overall, Resumeble is an amazing option for professionals of any level, from fresh graduates to C-suite executives.
Best Resume Coaching Service – The Muse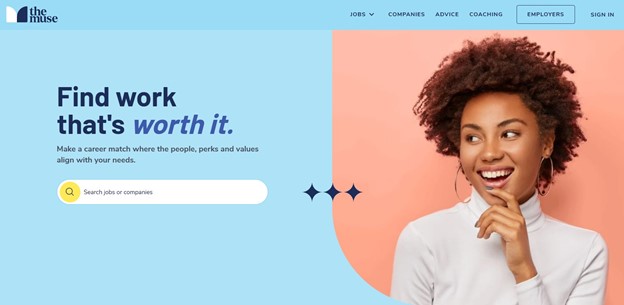 Not exactly a resume writing service per se, The Muse is more of a consultant that provides job seekers with guidance and help with resume writing. Their service is perfect for those who still want to write their resume on their own. The Muse has in-house mentors and coaches who will work with you through your preferred communication platform and help you become the best resume writer you can possibly be. All you have to do is choose an ideal coaching option for your needs, book your career coach, and then set a schedule to begin kicking your career into higher gear.
The Muse process
The Muse offers a wide array of coaching services related to resume writing, job search, career change, and more. The first order of business is to choose a service such as Resume Review, Cover Letter Writing, Interview Coaching, Job Search Strategy, or Resume + LinkedIn Review. After choosing a service, you will then select a career coach who will provide the service you need. Your career coach will contact you to schedule your sessions. Depending on your service you can get one, two, or unlimited edits.
Key characteristics of The Muse resume
Having a career coach can help give you a keener understanding of the resume writing process. It also comes with the benefit of knowing that you are making the right decisions for your chosen career path. With help from The Muse, you can have a resume that possesses the following qualities.
The content is designed to catch a reader's attention and draw the eyes to key sections of information.
It will have your personal touch because you are the one who wrote it.
"ATS-beating" keywords are used organically without sacrificing the overall quality of your writing.
Choose your service and your coach carefully, and you can reap a lot of benefits that go beyond resume writing. Aside from resume services, The Muse also offers Networking Strategy, Negotiation Coaching, "Stuck in a Career Rut" Package, and "Ultimate Job Search" Kit to effectively help you with your job search endeavors.
Best Resume Service for First-Time Job Seekers – ResumeGo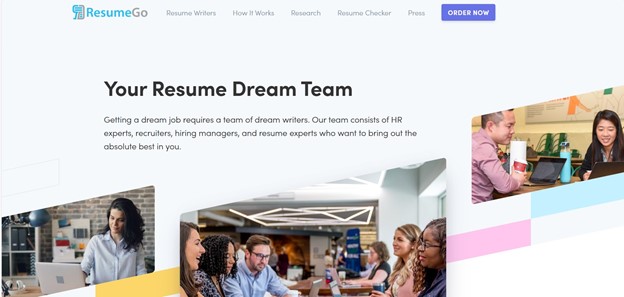 A website serves as a company's resume, and ResumeGo's is easily one of the most impressive resume service websites you can find. It's hip, informative, and easy to navigate—qualities that make ResumeGo an ideal professional resume service for young professionals and first-time users of a professional resume writing service such as theirs.
Adding to ResumeGo's beginner-friendliness, the company provides unlimited revisions as well as a money back guarantee, available for up to 14 days.
The ResumeGo process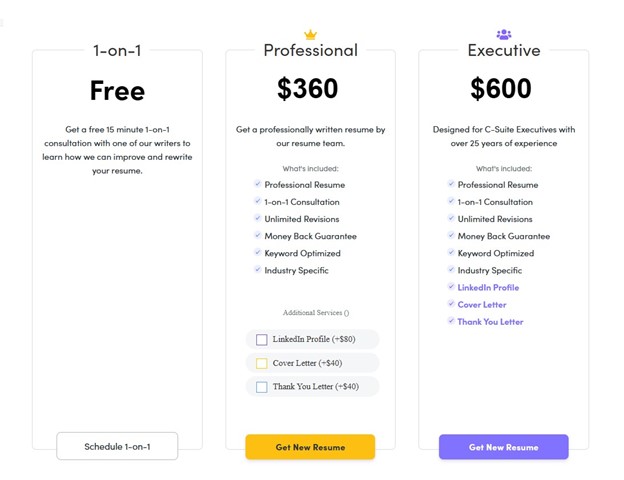 Working with ResumeGo begins with an initial consultation that immediately partners you with an adept resume writer who will give you a preview of how they will work on your resume. Their one-on-one consultation involves video and written discussions, which enhances the effectiveness of their pre-resume writing process. Best of all, this initial consultation is completely free of charge.
Users choose from only two pricing structures: Professional and Executive. The latter is exclusive for C-Suite Executives with over 24 years of experience. It normally takes seven to 14 working days for ResumeGo's writers to submit their first draft to the client—which is standard for most services like theirs. If you are in a rush, you can request them to prioritize your order, and you can have your draft within 48 hours. You can choose to add a cover letter, a thank you letter, and a LinkedIn profile makeover—each with its own additional cost.
Key characteristics of a ResumeGo resume
ResumeGo prides itself on writers who are former HR managers and headhunters with years of experience. Below are some of the characteristics you can expect from their resumes.
The formatting is clean, simple, and easy to read.
The content pays great attention to inserting keywords organically.
Technical resumes read like they were written by an industry expert.
What makes ResumeGo stand out from the pack is its focus on communication and collaboration. For those who are unsure about their work, the money-back guarantee provides a level of reassurance that not many services can match.
Best Resume Service for Beating ATS Systems – ZipJob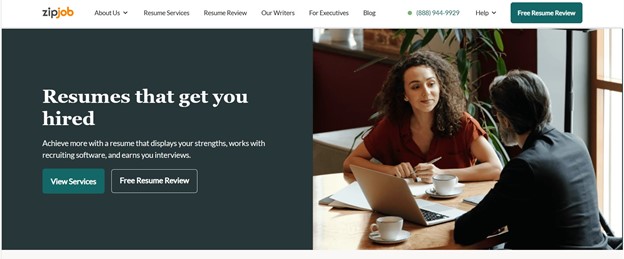 Applicant tracking systems (ATS) are widely used in many industries these days, making it more important for job seekers to seek professional help with resume writing. Fortunately, ZipJob's pool of writers are proficient at developing resumes that can pass ATS. The resume writing irm has its own scanning system to ensure your application will get read by a human recruiter. Choose from ZipJob's three different packages (Launch, Fast Track, and Premium). If you don't like your resume, they will rewrite it for free. This resume and cover letter services provider also boasts some of the most affordable pricing in the industry.
The Zipjob process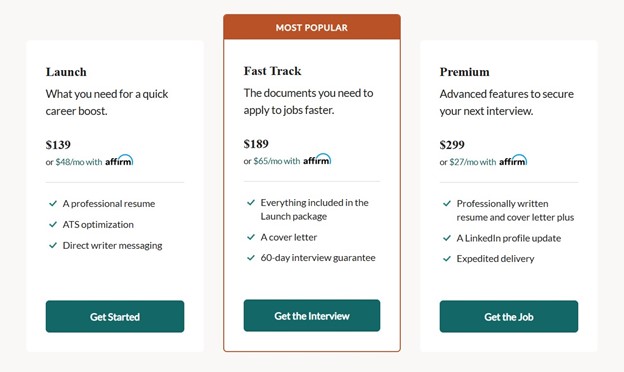 Zipjob allows users to upload an existing resume for review on whether it is good enough to pass an ATS screening or not. The ATS they use is the same software used by many of today's biggest employers. You may then select from the three plans on offer, after which a ZipJob writer will then contact you and schedule your consultation. You can talk via messaging or by phone, but the latter will cost you extra. The first draft will be sent to you within three to seven days, depending on your chosen package.
Key characteristics of a ZipJob resume
With a deep pool of specialized writers in over 65 industries, ZipJob likely has a writer who is well-versed in your field. You can expect your ZipJob resume to have the following standout features.
An ATS-friendly format custom-made to suit job and industry expectations.
Smart use of font, alignment, and spacing.
A results-oriented resume that uses numbers and metrics to convey accomplishments more effectively.
ZipJob offers two free revisions for every resume it writes, along with a 60-day interview guarantee. In today's highly competitive market, this particular offer can come quite handy, and provides further added value to ZipJob's already-impressive services.
Best Resume Service for Technical Jobs – Let's Eat, Grandma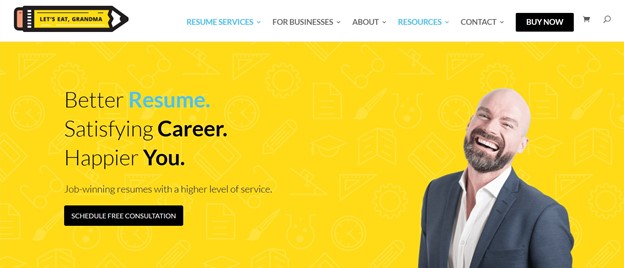 The name may be meant to elicit a chuckle, but their services are no joke. The resume writers of Let's Eat, Grandma, are some of the most experienced and highly trained in the business. Job seekers get to choose from four different packages (Starter, Accelerated, Premium, and Executive Concierge Service). Let's Eat, Grandma is more expensive than other services, but as one of the highest-rated professional resume help providers around, the extra cost will be money well spent.
The Let's Eat, Grandma process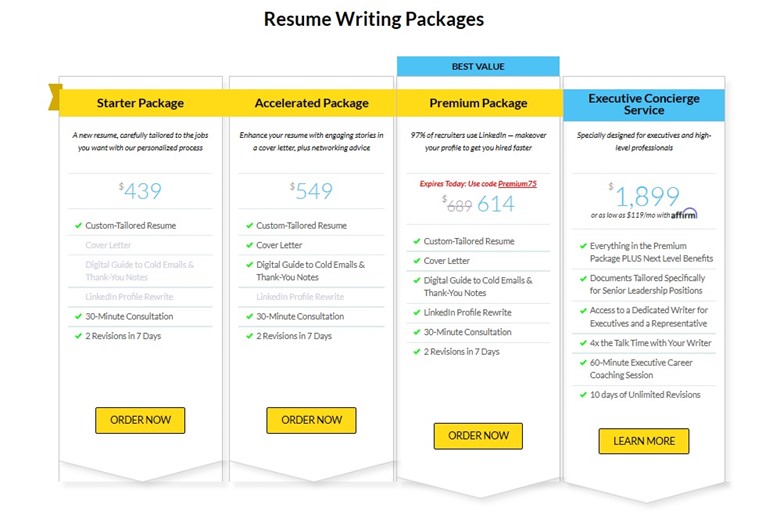 Like other service providers listed here, the Let's Eat, Grandma process begins with a free evaluation of your application. You may then choose from the four different packages listed above, after which your assigned writer will ask you to fill out a detailed questionnaire. Your writer will then take the time to understand your resume needs via a 30-minute initial consultation. Expect to receive your first draft within seven working days. Additionally, you can request two rounds of revisions within seven days of receiving your drafts.
Key Characteristics of the Let's Eat Grandma resume
Let's Eat, Grandma's writers place special focus on collaborating and personalization to ensure your documents land you more interviews. Here are three characteristics of the resume that they deliver to clients.
No cookie-cutter templates—each resume is unique and custom-tailored to suit the applicant, job, and industry.
Measurable accomplishments are highlighted, and goals are clearly defined.
Summary is strong, engaging, and sets the tone.
Those working in highly technical jobs will be wise to choose Let's Eat, Grandma as their resume writing service. Their writers are not only adept at communication and business writing, but also have industries in which they specialize in. This makes them an especially excellent choice for those who work in highly technical industries such as engineering, IT, or the medical professions.
Best Free Resume Writing Service – Resume.com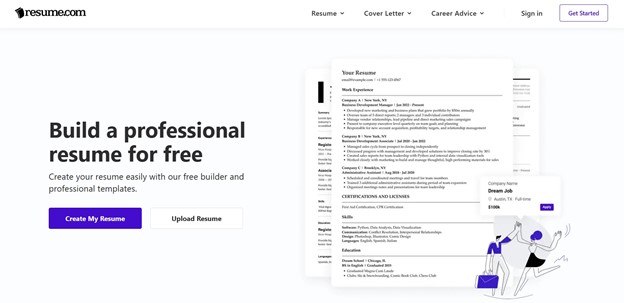 Nothing beats free, so if you're on a tight budget, a resume builder service such as Resume.com is an excellent alternative to the providers listed here. Extremely user-friendly and easy to follow, resume.com's platform provides job seekers with all the tools they need to craft a high quality application via the DIY approach. All you need to do is create an account and you'll be on your way to becoming an effective resume writer in your own right.
The Resume.com process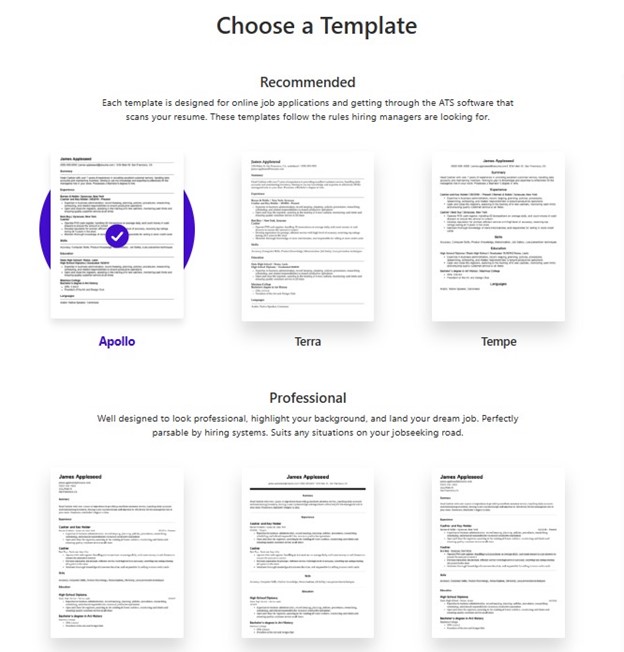 Since you'll be doing most of the steps on your own, the resume.com process is lengthier and more labor-intensive than if you were to use an actual resume writing service. You begin by clicking the "Create My Resume" button. When a window pops up, enter your job title and click "Next." The following window provides you with an array of resume templates to choose from. With your template selected, you may then proceed to input your information and craft your resume. You can add and rearrange sections as you desire. If you are satisfied with your completed resume, you may then download or print it. You'll have a copy of your resume instantly, instead of waiting for days for a writer to finish it!
Key characteristics of a Resume.com resume
Whether you want to upload an existing resume or start one from scratch, Resume.com's intuitive platform is quite easy to use. Your completed resume will have the following characteristics.
Industry-specific templates are just a click away.
Contents and sections are easy to edit, as long as your resume is still open on the platform.
It will have your personal touch, because everything on it was written by you.
All in all, Resume.com is a superb choice for those who are confident in their writing abilities. Aside from being completely free, Resume.com also allows you to import information from your LinkedIn profile, further simplifying the resume writing process.
Frequently Asked Questions (FAQs) About Resumes
How long should a resume be?
Most recruiters prefer a resume to be one to two pages long. This is usually enough for most jobs that require minimal experience. As a rule of thumb, it's best to keep your resume as short as possible while also including all your relevant skills, experience, and achievements. Early career professionals can benefit greatly from a single-page resume, and so can career switchers whose previous work experience may not be relevant to the new job they're applying for.
Some would argue that a resume should be at least two pages long. Two-page resumes are fast becoming the norm as digital documents replace paper ones. For sure, it's easier to scroll through a digital resume than it is to thumb through a stack of paper. If you have enough relevant experience to fill two pages, by all means, go with a two-page resume. Otherwise, it's best to stick with one page, as it works for most applications. 
How many pages should a resume be?
There's no right number of pages when it comes to resume length. For those with one to ten years of experience, a single page is advisable. Applicants who have worked ten to twenty years can probably fill two to three pages with their professional background. Resumes that are at least three pages are typically reserved for those in the technical field, such as engineering, mathematics, and the physical sciences. 
Deeply experienced professionals applying for managerial and executive positions may also find a three-page resume adequate in highlighting their capabilities, which should be lengthy given their vast accomplishments. 
Unless you are applying for a job that requires detailed technical skills or decades of professional experience, there's a very good chance that a single page will do in your situation. That said, as long as your resume contains all the relevant information, it matters less how long it is. The key is to focus on the details that matter most to your potential employer.
What skills to put on a resume?
Choosing the right skills to include in a resume can be daunting. The trick is to know how to go about the selection with some smarts. First things first, you need to review the job ad very carefully. Make a list of any skill that's heavily emphasized or repeated. If you have the exact same skills, make sure to include them in your resume. If not, you need to identify your matching skills. Once you have a list of skills that overlap with the job's requirements, incorporate them into your resume. Those valuable keywords will be important in beating ATS systems widely used by hiring companies today.
It can also help to learn as much as you can about your prospective employer. Visit their website and social media channels, and take note of any descriptive words they use to describe their brand, company, and culture. These can indicate the soft skills that they want future employees to have, and having them on your resume can send the signal that you are a positive addition to their workforce.
What to include in a resume?
A good resume should be divided into key sections to make it easy to read. Use these sections to indicate that you are qualified for the position and have the skills needed to be successful at the job. You also need to relay that you will be a team player who can bring value to the company.

Here are the must-have sections to include on your resume:
●     Professional header section – contains your name, phone number, and email address.
●     Professional summary section – briefly explains your professional history and mentions key skills and achievements.
●     Work experience section – showcases your responsibilities and achievements in previous roles.
●     Skills section – includes hard and soft skills that make you a good fit for the job.
●     Education section – lets employers know that you meet the minimum education requirements for the position.
●     Certification and accomplishments section – may be required by some employers, but not all. Include this section only if you have trouble filling up your resume, or if the employer requires it.
How to list references on a resume?
A resume reference list provides employers with a list of people who know you in a professional capacity. Most importantly, these are people who can vouch for your skills and qualifications. Generally, you'll want to list former managers or professors. Once you've selected at least three references, list each of them with the following information: 
●     Name
●     Current Job/Position
●     Company
●     Phone Number
●     Email Address
You can also include any messaging app used by your references. There's no need to include a physical address. If a reference has a preferred method of communication, be sure to indicate that in your resume reference list.
A resume reference list can take up valuable space on your resume, so it should be a separate document. You don't need to provide it when you first apply for a job, but be ready with it when they call you in for an interview.
How to write a resume summary?
A resume summary should be tailored to the job you're applying for, so avoid using templates. If you must use templates, don't just copy and paste. Edit the words so that the summary contains your personal information and qualifications. 
Before writing your resume summary, first make a list of your greatest professional accomplishments. Rank your accomplishments according to the requirements of the job. Then, write your summary until it sounds appealing to you.
In writing your resume summary, start with an engaging opening sentence. Ensure the body highlights your key skills and experience in a relatable and easy-to-read manner. Limit your summary to three or four sentences, and start each sentence with an active verb such as "Managed", "Developed," or "Created." Close your summary with a line that showcases your potential value to the company.
After writing your summary, review it carefully so it's free of spelling and grammar errors. Check that your language is clear, direct, and concise. You can ask a friend or family member to read your summary to see if it resonates with them.
How to write an objective for a resume?
A career objective is not a strict resume-writing requirement, but a well-written one can be useful in capturing a recruiter's attention. Include an objective statement in your resume if you want to emphasize your ambition, your career trajectory, or special skills. Suppose you don't have much relevant experience. In that case, an objective can bring attention to your transferable skills and explain to the recruiter why you should be considered as a candidate.
If you decide to include an objective in your resume, use the statement to link your skills and qualifications to the job you're applying for. Use keywords mentioned in the job listing to emphasize how your skills align with the job's requirements. Focus on how you want to grow with the company and how you can add value. Include information that displays your experience, skill set, years in the industry, and any other related qualifications.
How to make a resume with no experience?
It's not impossible to write a compelling, effective resume, even if you don't have any work experience to speak of. The trick is to shift the focus of your resume to other aspects of your life where you've harnessed your skills to achieve worthwhile goals. Your efforts at school, volunteering for an organization, or any involvement in athletics and extracurricular activities can be used to showcase your abilities in your no-experience resume.
When writing a resume with no experience, the first thing you should highlight is your education. Any relevant coursework, honor, high GPA score, or academic projects can effectively showcase your strengths, background, and passions to an interested employer. If you have certifications in and outside of school or have ever received a professional credential, these can also be included in your resume's education section.
Follow your education section with any relevant experience. It may not seem like it at first thought, but a little digging into your life could reveal instances of character, professionalism, and drive—qualities that are important to any potential employer. Do you have any volunteer experience? Did you take on odd jobs during the summer? How about extracurricular activities, including sports, arts, or science? Have you ever worked with a team in or outside of school?
End your resume with a brief summary to give recruiters an idea of your background and assets as an employee. Don't forget to mention skills and characteristics that match those mentioned in the job requirements. 
How to format a resume?
An improperly formatted resume is not going to impress any recruiter. No skill or accomplishment will win them over if your resume looks shoddy, unprofessional, or hard to read.

Here are some basic resume-writing rules to follow:
●     Alignment: Always align the content of your resume to the left
●     Margins: Keep margins at 1" on all sides.
●     Font: Stick to a contemporary font type such as Cambria, Calibri, or Garamond. Keep font size between 10 to 12 points, using 12 for small font sizes. Make sure the font is uniform throughout your resume.
●     Headers: Separate each section with a clear header to make your resume easy to read.
●     Bullets: Break sections into bullet points to give your resume an organized appearance.
●     Saved documents: Save your resume as a .PDF file, as it is the universal file format for resumes.
●     Printed documents: If you must print your resume, use plain white A4 paper.
What is the purpose of a resume?
You might think that the purpose of your resume is to land you the job. This, however, is inaccurate. Your resume's sole goal is to secure the interview for you—it is ultimately how you fare at the interview that will dictate if you get the job or not.
Employers go through a lot of resumes on a regular basis. The biggest companies handle thousands of resumes on any given day! Given this fact, it's your responsibility to ensure that your resume will pass a recruiter's scrutiny and get you shortlisted for an interview.
Remember that your resume is your professional representation. Therefore, it should accurately reflect your skills, experiences, and background in a manner that makes you the best candidate for the position. 
If your resume is well-written, error-free, and well-organized, it will compel recruiters to contact you and request you come for an interview. However, if your resume is not generating phone calls, you need to improve its content.
How to make your resume stand out?
With the limited space, you must make sure every piece of information you put in your resume is impactful.

Here are a few ways to set your application apart from the competition.
●     Keep the design simple – avoid unusual graphics and formatting. The simpler and cleaner the design, the better.
●     Apply keywords – including the right keywords ensures you'll pass any ATS that scans your resume.
●     Use a professional email address – use a familiar email provider, such as Gmail, and create an email address using your name. If your name is already in use, find a variation that keeps your email looking formal and professional.
●     Avoid jargon – remember that recruiters may not have the technical knowledge you do, so use plain language in your resume. If the job description specifies any specialized skill, then that's when you can use more technical terms in your resume. Otherwise, keep your statements comprehensible.
●     Quantify your achievements – as much as possible, express them in verifiable numbers to make them more credible, and demonstrate to recruiters that you are driven to achieve results at work.